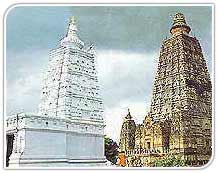 Bihar has some of the most sacred Buddhist and Hindu shrines. Gaya is one of the most important pilgrimage places for the Hindus. It is believed that a Hindu will reach heaven if his last rites are offered under the celebrated 'Akshayabat' or immortal banyan tree, standing in the yard of Vishnupad temple. Believed to be built on the footsteps of Vishnu, the grand temple was renovated by Ahalyabai, queen of Indore.
Excursion Deo
20 km from Gaya, the Surya temple, here, is the site of the famous Chhath Puja in November.
Parasnath Hill
40 km from Gaya, they are the earliest Buddhist rock cut caves. It is believed that 22 'tirthankaras' out of 24 attained salvation here, and is deemed one of the most sacred pilgrim centres for the Jains.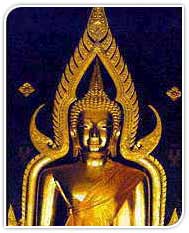 Chotanagpur
The Chotanagpur plateau is one of the most beautiful areas in Bihar. Studded with hills 300 - 900 m in altitude, and covered with verdant virgin forests, this expanse of rivers, lakes, meadows and valleys is an ideal retreat. Rich in wildlife, these forests are an anthropologist's delight, as the clutch of ancient tribes, like Santhal, Ho, Munda, Oraon, Koi, Chero, Kharia, Paharia, dwelling within them, still retain their intriguing traditions and rituals.
Ranchi
The erstwhile summer capital of Bihar, Ranchi, is 676 m in altitude, and is a wonderful hill station. Its significant landmarks are a hill - top Shiva temple, with the Ranchi lake at the foothills.
Palamau
A popular tourist resort 140 km from Ranchi.