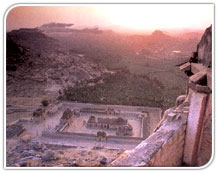 "Vijayanagara" is such that the pupil of they eye has never seen a place like it.." so eulogized Abdul Razaq, a Muslim envoy who visited Hampi, the erstwhile capital of the Vijayanagara kingdom, in 1443.
You can still glimpse the splendour of Vijayanagara in its ruins. The Virupaksha Temple rises majestically at the western end of a 700m long street that was once the famous Hampi bazaar. This is the only temple at Hampi that is still used for worship. Nearby is the 6.7 m tall monolith of Ugra Narasimha, seated under a canopy of a seven hooded snake.
The most splendid monument of Hampi is undoubtly the Vithala Temple Complex. The 56 pillars in the main hall produce musical notes when struck.

To the east of the hall is the famous Stone Chariot with stone wheels that actually revolve! Hampi is full of such surprises. Like the King's Balance, where ruling kings were weighed against grain, gold or money which was then distributed to the poor. Or the Queen's Bath, with its arched corridors, projecting balconies and lotus - shaped fountains. Or even the Lotus Mahal in the 'Zenana' enclosure.
A beautiful Two-Storied place with recessed archways set in geometric regularity and opening out to the sun and the wind like the petals of a flower. The imposing Elephant Stables have arched entrances and domes. And in the Royal Enclosure of the city is the Hazara Rama Temple.

Explore Hampi at your own pace. Its monuments - like its centuries old patience and wisdom must be savoured bit by bit.
Local Festival The Vijayanagar Festival
is organized by the Government of Karnataka in December. Dance, drama, music, fireworks, puppet shows, spectacular processions, all combine to recreate the grandeur of the bygone era.
Languages Spoken:
Kannada, Hindi, English. When to go there. October to March
How to get there:Air :
The nearest Airport is Bellary (74 kms). Other convenient airports are at Belgaum (190 kms) and Bangalore(353 kms).
Rail :
Hospet is the nearest railhead (13 kms). Hospet is linked by rail to Bangalore, Bijapur, Hubli and Guntakal.
Road :
Hampi is 350 kms from Bangalore.



Special Offers on Hotels & Resort Booking in Karnataka
Travel Agents & Tour Operators offering Travel Packages to Karnataka