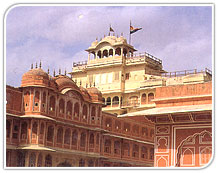 The City Palce is an imposing blend of traditional Rajasthani and Mughal art and architecture.
The City Palace complex houses several palatial structures. The first building in it is Mubarak Mahal, built by Kaharaja Madho Singh. It has a beautifully carved marble gate with heavy brass doors on either side of this gate. Beyond this gate lies the Diwan -e-Khas, or the "Hall of Private Audience".
Across a paved square lies the Diwan-e-Aam, or the "Hall of Public Audience". To the north-west is the stately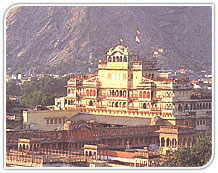 and graceful seven storeyed Chandra Mahal, the residence of the ex-ruler. Each storey has a distinctive name and is a place of sheer beauty and luxury. Paintings, floral decorations, mirror walls and ceilings in the traditional style adorn the palace.
The uppermost storey is called the Mukut Mahal. Opposite the chandra Mahal lies the Baldal Mahal. The Govind Devji temple stands inthe middle of the Chandra Mahal and Badal Mahal.
A delightful system of fountains is placed in the middle of the paved path between the Chandra Mahal and the Badal Mahal. The palace has extensive and sprawling gardens.
Special Offers on Hotels & Resort Booking in Jaipur
Travel Agents & Tour Operators offering Travel Packages to Jaipur