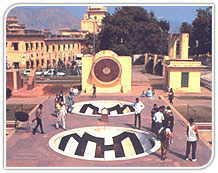 Jantar Mantar is the most famous and elaborate observatory of its time.
It was constructed in the year 1724 A.D. by Sawai Jai Singh II, even before the city of Jaipur was built, and has been described as the most surrealistic and logical landscape instone.
It was built to measure the local time, the sun's declination, altitude, the declination of stars, planets and to determine eclipses.
Special Offers on Hotels & Resort Booking in Jaipur
Travel Agents & Tour Operators offering Travel Packages to Jaipur