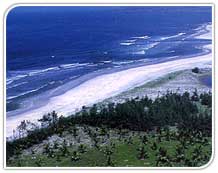 Maharastra's 720 kames. Long affair with the Arabian Sea extends from Dahanu and Bordi in the north up to Goa procssding Southwards. If you've got a penchant for send, sea and surf, this State has a great many interesting option in store. You could arrange fun day - trips or get away on a weekend. Indulge in adventurous water sports or daydream on secluded, golden sands. If you happen to have a special interest in forts and their history.
Maharastra is the perfect place to start on an enlightening tour. No other coasting India offers you such a vast choice of majestic forts like khanderi, Undheri, Malvani, Goa, Murud, Sindhudurg and Suvarnadurg. Discover the real Maharastra while you soak up the soft sands. Or explore intriguing sights. There's so much you can do. Study temple and churches. Stroll through whispering coconut groves. Hill and valleys. Look for tiny, picturesque villages. Acquaint yourself with different people … and their lifestyle. Sample authentic Konken cuisine …. Solkadhi, bangda, pomfret, curry, modak, rice, chapattis, dishes with jackfruit, kokam sherbet and, of course, the world famous Devgad alphonso.
Any place you choose is conveniently linked to Mumbai- a good starting point. And all these places are well-connected buses. The coastal climate of Maharastra makes traveling pleasant all round the year. Sea are rough only during the monsoon which strikes between June and September - Depending on the kind of holiday you plan you can be positive that is no ordinary holiday. Because Maharastra is no ordinary place!