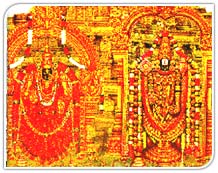 Climb or drive high up to Tirumala, nestling among the seven hills in the Eastern Ghats.
Catch the exquisitely carved gold gopuram of the Lord Venkateswara Temple, glinting in the sun. the Trimala shrine is a masterpiece of Dravidian architecture. This ancient temple has also found a mention in various Sastras and Puranas.
That's not all. There are other famous shrines in Tirupati town - Govindarajaswamy, Kodanda Ramaswamy, Tiruchanur (Goddess Padmavathi), Kapila Theertham (Lord Shiva) and Srinivasa Managapuram (Sri Venkateswara).
Chandragiri:
After temple bells and shrines, visit the Chandragiri Fort built on a huge rock about 56 mts high. Discover the remains of palaces and temples.
Relieve the lives of the Vijayanagar Royal Families in the Raja and Rani Mahal.
Coming up shortly, is an exciting sound and light show which will add a perfect touch to your evening!
Kailasanatha Kana: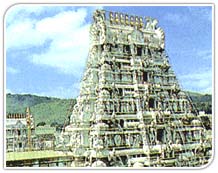 Don't miss the lovely Kailasanatha Kona natural waterfall in the valley of Nagari Hill near Puttur. It is believed that a batch at this mineral rich waterfall, has curative effects.
Horsley Hills:
Looking for a quiet end to your holiday? Stop by at Horsley Hills, located at an altitude of 1265 mts. The delightfully cool hills are named after W.D. Horsley - a one time collector of Cuddapah District, who chose this spot as his summer residence.
Groves of teak, red sanders, eucalyptus, gulmohar, and enchant you.
Sri Kalahasti:
There's nothing like a good story to add flavour to your tour. Close to Tirupati, is the sacred shrine of Vayu the wind God at Kalahasti town. There's a legend that the Linga here was worshipped by a spider (Sri), a snake (Kala) and an elephant (Hasti). And that's how Sri Kalahasti got its name.
Special Offers on Hotels & Resort Booking in Tirupati
Travel Agents & Tour Operators offering Travel Packages to Tirupati