include('/var/www/vhosts/eindiatourism.com/public_html/sww-your-ad-top.html') ?>

Home
>> India: Wildlife
include('../random_txt.html') ?>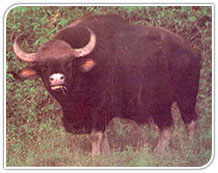 The hilly terrain of the Western Ghats, clothed in dense mixed and moist deciduous forests, make Mudumalai (the ancient hills) a most attractive wildlife reserve.
The Mysore- Ooty highway runs through the Park, following the course of the Moyar River, which separates Mudumalai from Bandipur. Just 321 sq. km. in area, the hilly terrain provides diverse habitats.
The wild elephant, gaur, deer and primates like the bonnet macaque and langurs all inhabit the Park. The predators include the tiger, leopard and the dhole - the Asiatic wild dog, that hunts in packs. The predators of the skies are the crested hawk eagle and the crested serpent eagle that can be seen circling above.
In the cool of the dense forests, among the stands of teak and bamboo thickets, are colourful birds -hornbills, the great black woodpecker with its dramatic red crest, mynas, barbets and parakeets.
The tiny eared owl, the scops owl and the little scops owl are more heard than seen.
The Annamalai Sanctuary, lying adjacent to Mudumalai is noted for two species that are exclusive to it -the Nilgiri langur and the lion tailed macaque.
General Information:Best Time to Visit:
February to June.
Nearest Town:
Gudalur (16 km)
How to Get Here:Air:
Coimbatore (160 km)
Rail:
Otty (64 km)