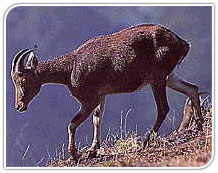 Set high in the ranges of the Western Ghats, in Kerala, is the Periyar National Park and Tiger Reserve. The park has a picturesque lake at the heart of the sanctuary. Formed with the building of a dam in 1895, this reservoir meanders around the contours of the wooded hills, providing a perennial source of water for the local wildlife.
Herds of elephant and sambar, gaur and wild pigs wander down to the lakeside and can be observed from the launches that cruise the lake. In March and April, during the driest period here, the animals spend a lot of time near the lake and the elephants can be seen bathing and swimming in the reservoir.
A glimpse may be had even of the tiger during this season, as it comes to the water. Periyar also harbors the leopard, wild dog, barking deer and mouse deer. On the rocky outcrops along the lake, monitor lizards can be seen basking in the sun. Visitors who trek into the Park often see a python and sometimes even a king cobra.
Among the unusual species found at Periyar are the flying lizard and the flying snake. With wings of orange or yellow, the flying lizard is seen as it glides from one tree to the other. The flying snake is also brilliantly colored in yellow and black with a pattern of red rosettes. The lake attracts birds like the darter, cormorant, grey heron and ibis and they are seen perched on the snags of dead wood that dot the lake. The great Malabar hornbill and grey hornbill are often seen flapping their ponderous way between trees.
There are kingfishers, ospreys and kites as well as orioles, hill mynas, racket tailed drongos, parakeets, including the unusual blue winged parakeet and fly catchers. The liquid notes of the Malabar whistling thrush and the loud call of the hornbills are distinctive amid the normal sounds of the jungle.
Four species of primates are found at Periyar - the rare lion tailed macaque, the Nilgiri langur, common langur and bonnet macaque. Though this is also the habitat of the Nilgiri tahr, this elusive goat is rarely seen. The animals are viewed from motor launches on the lake and from watchtowers. A summer palace of the former Maharaja of Travancore, set along the lake, is a hotel and a fine place to stay.
General Information:Best Time to Visit:
October to April.
Nearest Town:
Kumily (4 km)
How to Get Here:Air:
Cochin (200 km)
Rail:
Kottayam (114 km)