A Week in Wonderland!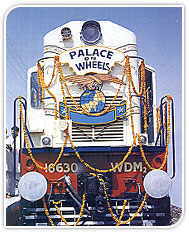 An extra ordinary train for extra ordinary people. A train with historic charm and modern convenience.
A royal train beckoning you to step aboard for a week of splendour.
It takes you on a royal odyssey.
Bringing alive the luxury of princely travel of the age of the Raj, the Palace-On-Wheels has been designed to suit modern needs with central air conditioning, soothing four channel music, interconnected telephone system in the train, a separate pantry and lounge in each coach, comfortable coupes with the privacy of attached bathrooms, two specialty restaurants - 'Maharaja' and 'Maharani', serving exotic Indian, Continental and Rajasthani cuisine, a well stocked bar, a reading and relaxing coach and friendly smiling attendants serving you round the clock.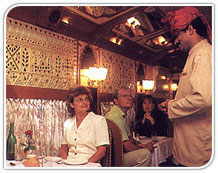 The 14 coaches of the Palace-On-Wheels with rich décor that evokes the age of Rajput chivalry, are named after former royal Rajput states - Kota, Jaipur, Udaipur, Jaisalmer, Jodhpur, Bikaner, Alwar, Sirohi, Kishangarh, Bundi, Dungarpur, Bharatpur, Jhalawar and Dholpur.
As most of the traveling is done at night, your days are left free - for discovering the delights of Rajashtan.
Click Here for More Details/ Reservation