Fast Forward!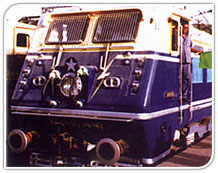 The Shatabdi Express Super fast, intercity trains known as the Shatabdi Express link major cities and offer facilities for quick and comfortable travel.
While you relax, the Shatabdi hospitality treats you to meals and snacks. Before you are through, your destination has arrived.
Major destination of the Shatabdi:
Agra:
Once the capital of the brilliant Mughal rulers, Agra has history stamped indelibly on every brick of its numerous monuments. The places of interest include the Taj Mahal - a poetic monuments to live; the Agra Fort with the Pearl Mosque, some lovely palaces and pavilions and Fatehpuri Sikri, a fascinating ghost town.
Lucknow:
The capital of Uttar Pradesh, Lucknow is the artistic hub of this region. Luckown's culture, cuisine, crafts - especially chikan work, charming poetry and a mellifluous language, all remind one of the age of courtesy and romance. The scarred brick building of the Residency, the Bara and Choota Imambaras, Jama Masjid, Rumi Darwaza, the Clok Tower, the Picture Gallery, Aminabad and Hazrat Ganji, all tell vivid tales of the city's past.
Dehra Dun:
Dehra Dun set in the Doon Valley in Uttar Pradesh, is one of the most picturesque regions in the foothills of the panoramic Shivalik ranges. Enjoyable throughout the year because of its salubrious climate, Dehra Dun is a popular spot and an appropriate base for tourists visiting Haridwar, Rishikesh and the charming hill resort of Mussoorie.
Amritsar:
Situated on the north western borders of India, in Punjab, the 400 year old city of Amritsar is the most important seat of Sikh history and culture. The city houses the sacred shrine - the Golden Temple, the Akal Takhat - the immortal throne, the Sikh Museum and the Durgiana Mandi.
Bhopal:
The city of Bhopal, the capital of Madhya Pradesh, is very impressive with its verdant, exquisitely laid out parks and gardens, broad avenues and streamlined modern edifices. Sites to visit in this historic city are: Taj-ul-Masjid, Jama Masjid, Moti Masjid, Shaukat Mahal, Sadar Manzil, Bharat Bhawan - the centre for performing and visual arts and the Tribal Habitat - a presentation of contemporary tribal cultures.
Mysore:
140 km from Bangalore and 770 m above seal level, the city of Mysore was once the capital of the Wodeyar rulers. It still retains its quaint charm. The Brindavan Gardens, ornamental and terraced with swirling fountains and colourful fairy lights, attract thousands of visitors. The Mysore Palace, St.Philomena's Church, Mysore Zoo, Chamundi Hiils with the Chamundeshwari Temple, the Jayachamarajendra Art Gallery are other interesting spots to visit.
Click Here for More Details/ Reservation