India`s Pride!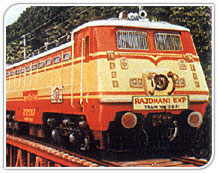 The Rajdhani Express, India's super fast, fully air-conditioned, deluxe train gives you the unique opportunity of experiencing the Indian railways at its best. Afternoon snacks and tea are offered after the train begins its journey.
After an Indian dinner, soft music and the train's rhythmic monvemment will lull you you to sleep. The train links New Delhi ( the capital or Rajdhani ) to Indias major cities.
Some major destinations of the Rajdhani
New Delhi:
The capital of India, New Delhi is a sprawling modern metropolis. Places of interest include the walled city of Old Delhi, Chandni Chowk, the Red Fort, Jama Masjid, the impressive Rashtrapati Building, the Old Fort, Humayun's Tomb, the Qutb Minar and Tughlakabad Fort.
Kolkata (Kolkata):
Historically, culturally and intellectually vibrant, Kolkata the gateway city of eastern India, despite its crowds, is an amazing experience. Places of interest include the Fort William, the Victoria Memorial and its museum, St.Paul's Cathedral and the Raj Bhawan. Across the banks of the River Hooghly are Belur Math and the Dakshineshwar Temple. Diamond Harbour, where the Ganga meets the sea, is 51 kms from Kolkata.
Mumbai:
A fusion of the ultra modern and traditional land India's glamorous answer to Hollywood, Mumbai is also the country's powerhouse, industrial heartland and economic nerve centre. The interesting places to visit in Mumbai include the famous Marine Drive, the Gateway of India, the Afghan Church, Hutama Chowk, Mahalakshmi Temple, Nehru Planetarium, Victoria Terminus and the famous Elephanta rock-cut caves.
Chennai:
Chennai, a modern metropolis, is the most convenient point of entry for South India and a fascinating cente for the arts. The places of interest include Fort St.George, St.Mary's Church, Kapaleeswarar Temple, Parthasarathy Temple, San Thome Basilica, the Government Museum and Valluvar Kottam. The broad sandy shore of the Marina Beach is the ideal place for an evening stroll.
Bangalore:
Bangalore, 'the garden city' city India, is also one of Asia's fastest growing urban centres. Places of interest include the Bangalore Palace, Tipu Sultan's Fort and Palace, the Lal Bagh Gardens with its Glass House, Cubbon Park, the Bull Temple, the Vidhana Soudha and Venkatappa Art Gallery. The centrally located Ulsoor Lake, is dotted with picturesque and tiny islands.
Hyderabad:
The 400 year old metropolis, Hyderabad is the capital of Andhra Pradesh. Hyderabad's rich past tfinds expression not only in its marvelous monuments, also in its language, food, customs and etiquette. Some fo the places of interest here are the Char Minar, Mecca Masjid, Golconda Fort, Publc Gardens and Birla Temple.
Click Here for More Details/ Reservation