A Princely Experience !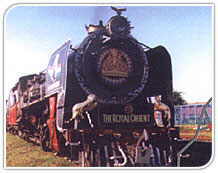 Pack your bags for a magic journey, through two of India's most culturally and historically vibrant states - Gujarat and Rajasthan.
The Royal Orient is one of the few extravaganzas left of an epoch of grandeur. Enjoy yourself in th luxury of this fascinating train, a spectacular concept in transport, an aesthetic marvel of modern times.
Thirteen indescribably wondrous, gold embossed saloon cars recreate the resplendent living of the time of youe.
The luxurious lounge, central air-conditioning, library, television and video entertainment, running hot and cold water and showers, soft channel music, the 'Watering Hole' - the well stocked bar, restaurant cars with delicious Indian and Continental cuisine and friendly attendants, all assure you, that your epic vogage is as fantastic as the Royal Orient itself. The Royal Orient begins its journey from Delhi Cantonment.
We leave the days free for you to explore fascinating destinations, while you go to sleep with the rocking movements of the train, journeying through the night.
Click Here for More Details/ Reservation